Project: Big Brother Mobile
I've been wanting to make a mobile for a while now, so when I found this book on mobiles, I had to give it a shot.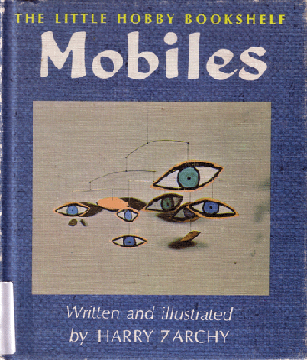 Okay, so the book is geared toward small children and I'm neither small nor a child, but the image on the cover got me thinking about something I'd read recently. There was a study conducted somewhere in the U.K. that discovered that people were far more likely to be honest if there was a photograph nearby of someone looking directly at them.

I teach high school (art and photography classes) and I'm constantly fighting discipline battles. It's tiring. Any help I can get in the way of additional surveillance would make my day go a lot easier and I could focus on my teaching instead of reprimanding and dishing out punishment all the frickin' time. The majority of my discipline problems reside in the corner of the classroom furthest away from where I teach. I try to go back into that area pretty frequently, but it's impossible to be there all the time. I find little surprises sometimes. One day during the first year that I taught, I moved my overhead projector cart in that corner only to find two used pregnancy tests. Two. Used. Pregnancy tests. Both negative. So can you see where I'm going with this? Yup, I put the two together and made the very first surveillance mobile!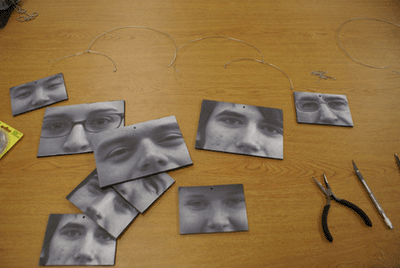 What you'll need:
Several images (of eyes, noses, mouths, whatever you want on your mobile), printed twice for front and back of each piece
Gator board or foam core
18 gauge wire
Wire cutter
Needle nose pliers
X-acto knife
Black thread
I glued the images on some black foam core (both sides). I then made some basic arch shapes out of 18 gauge wire and used my needle nose pliers to create loops at each end. I punched a hole in the top of each image, theaded some heavy-duty thread through each one and tied the image to the loop at the end of each wire. In order for the thing to balance, I put one 5x8 on one end of the arch and two 4x5 images, hung from a smaller arch, on the other. I ended up with two sets of those and I added a third, larger arch to hang the two sets from. (Totally confusing, I know, but it worked.) Since there was a significant space underneath the largest arch, I added yet another 4x5 image to the center of that.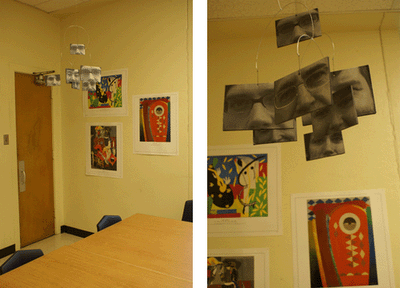 Will it work? Will it make a difference? God only knows. It'll probably get trashed at some point, but it sure was fun to make.

Poopscape is written by Claire Chauvin, a craft-obsessed mother and photography teacher living in Houston, Texas. If you have a question or a compliment, have tried one of my projects and want to share with me, or just want to chat, please email me at claireATpoopscape.com.