Project: Cornucopia of Doom
I loves me some Halloween. My inner goth loves to come out to play and she wants to make something disturbing, but decorative. I took inspiration from Don't Throw It Away! published in 1973. There are many, many wonderfully wacky projects in this book that I want to have a go at, (I can't wait to make the combat boot planter/lamp!) but once I saw the cornucopia with all of its god-awful plastic fruit a-spillin' out, I knew I'd stumbled on the germ of a good Halloween idea- the Cornucopia of Doom! (Great name for a goth band, yes?)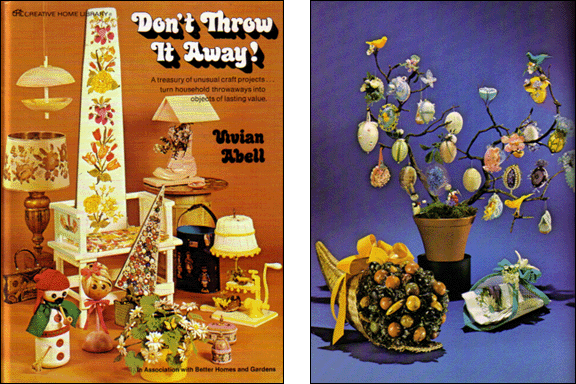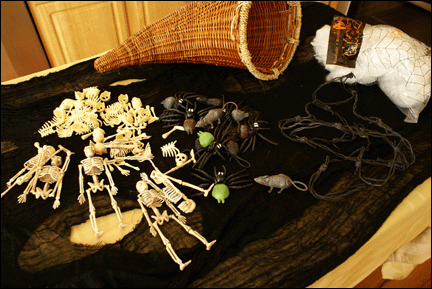 Plastic skeletons, lots of them!
Polyester spider webbing
Black paint and paintbrush
Wicker cornucopia
Hot glue gun
Optional: plastic rats, spiders or whatever other icky things you want to add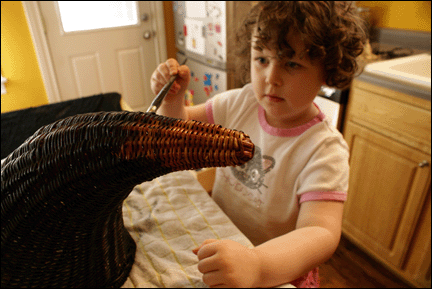 I like to get Eleanor involved in my projects, and sometime she downright insists on doing so. I let her paint the cornucopia black.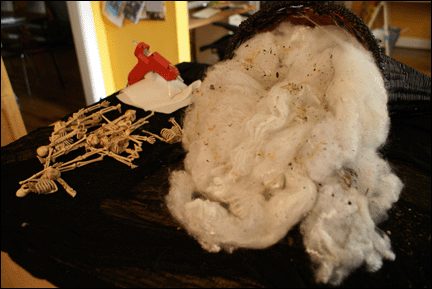 I filled the cornucopia with some plastic grocery bags to fill up most of the space and hot glued a bunch of the polyester spiderweb stuff around the rim so that it appeared to spill out of the cornucopia. The spiderwebbing was to pristine, so I applied a liberal amount of dirt and grime to it. I also wound the plastic mock-barbed wire around the cornucopia and added a plastic spider to the top.
After hotgluing skeleton bits and pieces (lots of them- the more the better I figured), I decided that the spider webbing was still too clean, so I doused it liberally with a batch of very strong tea.

Poopscape is written by Claire Chauvin, a craft-obsessed mother and photography teacher living in Houston, Texas. If you have a question or a compliment, have tried one of my projects and want to share with me, or just want to chat, please email me at claireATpoopscape.com.