Project: Woven Felt Pillow
This crafty project comes from the October 1968 issue of Pack o Fun magazine. The production quality of Pack o Fun is most definitely low-fi and that's its charm. Some of the projects in PoF are a bit goofy (macaroni mobiles, anyone?) and if you base your judgements on the diagrams and photographs that accompany the instructions, you'd never want to try any of it. But just as my attempts at making stuff from MSL come out flawed, the projects I make from Pack o Fun come out much, much better than expected.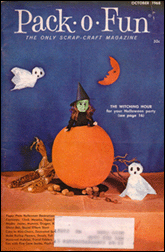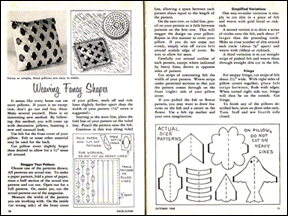 What you'll need:
Two colors of felt, about a yard each
Paper for pattern template
Fabric marker or Sharpie
Embroidery floss and needle
X-acto knife
I thought I'd have a go at the "Weaving Fancy Shapes" project. The introduction begins, "It seems like every home can use more pillows." Does your home need more pillows? Think about that one. This project involves making pillows out of felt. I've had a long-running crush on felt. It's my craft medium of choice because of its versatility and its humble fuzziness. This project involves cutting a pattern out of felt and then weaving felt in a contrasting color through the pattern. I chose to use the template exactly as it was featured in PoF so as to remain as faithful to the instruction as I could. I tried, I really did, but as you'll see later, this attempt at being faithful didn't last.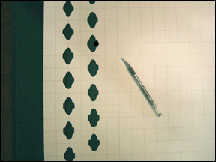 I made a paper template with a 1" grid on it, transferred the pattern onto the pattern, cut the first two rows of the pattern to make the stencil, and then traced through the stencil onto the back of the felt piece with a sharpie. Then I cut the pattern out with an X-acto knife.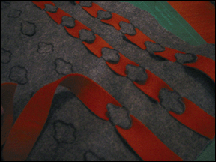 The felt I used is wool felt. Polyester felt has a tendency to pill and look crappy with even minimal use, so no go with the poly. Wool felt also has a more tactile quality. I wove strips of orange felt through the gray and when I finished, I flipped the piece over to the front side and discovered something interesting. The pattern on the front side, the "right" side, looked vaguely like poorly rendered images of the state of Texas, while the reverse side had a more interesting pattern- almost like an optical illusion.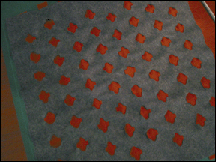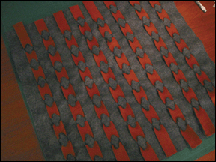 I decided to go against the instruction and bring the back to the front. I hand-sewed up three edges with orange embroidery floss using a blanket stitch, added a polyfill pillow and finished off the last edge with more blanket stitching.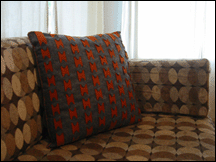 The verdict? I'm totally happy with it. It exceeded my expectations and looks really expensive and swank on my sofa. Thanks, Pack o Fun!


Poopscape is written by Claire Chauvin, a craft-obsessed mother and photography teacher living in Houston, Texas. If you have a question or a compliment, have tried one of my projects and want to share with me, or just want to chat, please email me at claireATpoopscape.com.