Project: Gold Leaf Rocks!
This Christmas, instead of forking out the big bucks for the big bling, try this instead. Gold leaf is surprisingly cheap ($7 for a pack of 25 5"x5" sheets) and when used with double tack mounting film, it's really easy to use. The mounting film can be cut into any design, regardless of how intricate or delicate it is. You can add gold leaf to just about any surface, but I thought I'd use it to transform the humble river rock into something special to decorate my house with this Christmas. Gold leaf is festive and Christmassy without screaming, "Christmas!" in your face. Hate that.
What you'll need:
a selection of river rocks (should be smooth), thoroughly washed and dried
gold leaf
a small brush
small sharp scissors (for making those dainty cuts) or an x-acto knife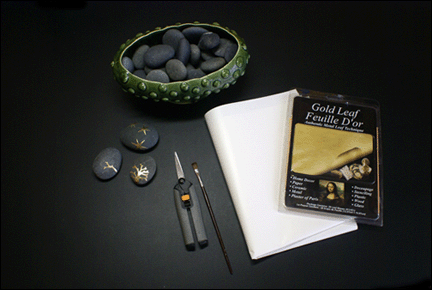 Step 1: Trace the outline of your rock onto the adhesive paper. I highly recommend doing this first because it insures that your design will fit/be centered on your rock. Draw your design on the paper.

Step 2: Cut out your design. Told you this project was crazy-easy!

Step 3: Peel the back side off the adhesive paper and stick your design on the rock.

Step 4: Peel the facing side off the adhesive paper design. See how it leaves a sticky layer?
Step 5: Grab a piece of gold leaf to cover your design. If you don't have a large enough piece, you can use several smaller pieces to cover your design. Any scrap you have left over can be used later for another project.

Step 6: Use your brush to push the gold leaf against your design. When it's firmly stuck, brush off the excess gold leaf. Try not to sneeze or sigh deeply while you're doing this- the gold leaf will become airborne. It leaves a rather pretty mess, though, a bit like glitter.

Step 7: Brush up against the edges of your design to remove the remaining bits of gold leaf and then you're done. You can apply gold leaf sealer if you want the gold to maintain its luster, otherwise it'll gradually take on an "antique gold" patina over time.
Other possibilities: I thought it would be nice to make letter/initial designs to use as place markers for a fancy dinner or paperweights. A single stripe design led me to make my own version of an Andy Goldsworthy ("Gold"sworthy- ha!) Just think of all the possibilities. Those baseboards are looking a bit plain, aren't they?

Poopscape is written by Claire Chauvin, a craft-obsessed mother and photography teacher living in Houston, Texas. If you have a question or a compliment, have tried one of my projects and want to share with me, or just want to chat, please email me at claireATpoopscape.com.