Project: Woven Heart
I used to make these hearts when I was living in Norway. They're actually Christmas ornaments that you fill with candy and hang on the Christmas tree. The Norwegians had such cool Christmas traditions. Maybe I'll teach you how to make a marzipan pig too. Mmmm, marzipan pigs...
What you'll need:
Pattern (see below)
Any non-fraying fabric (like felt), leather or paper in two contrasting colors
Scissors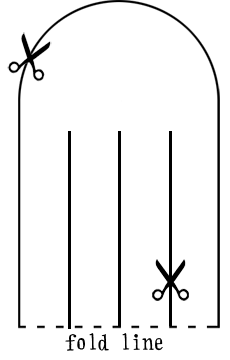 You can blow it up or reduce the above pattern template on the photocopier to make smaller or larger hearts. The pattern will give you four strips to weave, but if you like, you can also cut more or fewer slits in your hearts (you must cut at least two). Cut a rectangle of your material a little wider than the template and at least twice as long. Fold the rectangle in half and place the template with the fold line on the fold of the material and cut out your piece. Do the same thing with the other color material.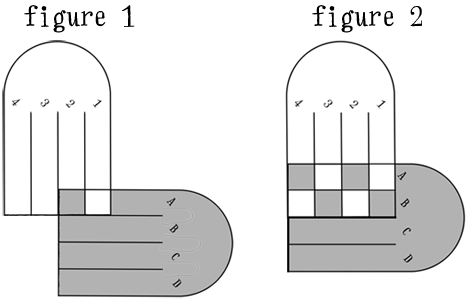 The weaving goes a little something like this
(NOTE: you're weaving through the loops, not in-between the strips):
Top row
A through 1 then
2 through A then
A through 3 then
4 though A
Second row
1 through B then
B through 2 then
3 through B then
B through 4
Third row
C through 1 then
2 through C then
C through 3 then
4 through C
Fourth row
1 through D then
D through 2 then
3 through D then
D through 4
Got it? Here's what it looks like...
[weaving top row]

[weaving second row]

Weave the remaining rows the same, remembering to alternate each row.

You did it! Now you'll notice that not only do you have a cool-looking woven heart (The two halves become one- get the romantic symbolism? Aww!) but it also makes a little pocket! Fill it with love stuff for your loved one!
If you want a little closure or handle, you can either glue/sew a strip of felt on the inside of the tops of both hearts to make a little handle or thread some ribbon through the heart to close it off with a lil' bow.