Project: Jewelry Frame
This project comes from the 1972 edition of Better Homes and Gardens- Gifts to Make Yourself. There are about a bazillion projects that I want to try from the pages of this jewel, but the first one that caught my eye was the picture frame jewelry case.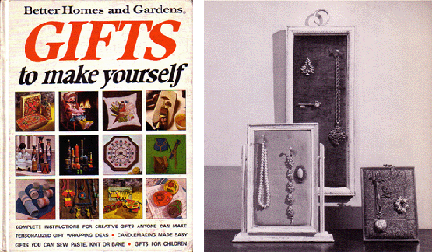 What you'll need:
Frame
Paint (if you need to paint your frame)
Foam core or heavy cardboard
Fabric to cover the foam core
Hot glue gun
map pins or hooks to hang jewelry from
I inherited a bundle of photographs and some frames from my Grandma and the frames just ended up squirreled away in my attic, "for future use". The frame in the Better Homes and Gardens book (bottom left) is nearly identical to one of them- a frame that pivots on a stand. My inherited frame was wobbly and a bit too shabby for even the shabbiest of shabby chic fans to appreciate, so it got to take on a new life.
For starters, I took to it with a screwdriver and some wood glue to make it more stable, and then I cleaned it and painted it in white acrylic paint- lots of it.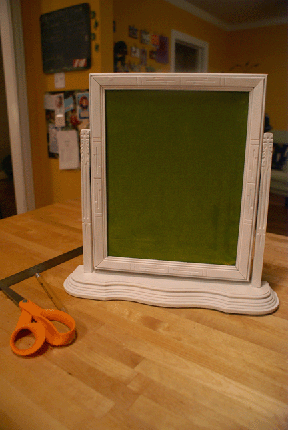 I forked out a few bucks for a quarter yard of some really nice velvet and wrapped it over a heavy duty piece of cardboard (not the corrogated kind) and hot glued it in place.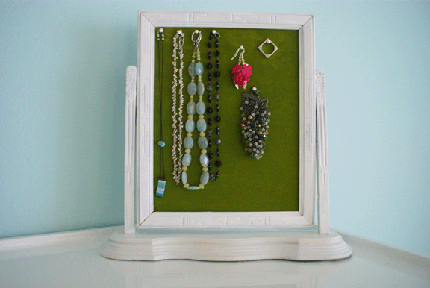 A few white map pins were all that were needed to hang the jewelry. Done. Result: Some of my favorite pieces from my jewelry collection are now in plain view and not in a tangled heap in my crappy jewelry box.


Poopscape is written by Claire Chauvin, a craft-obsessed mother and photography teacher living in Houston, Texas. If you have a question or a compliment, have tried one of my projects and want to share with me, or just want to chat, please email me at claireATpoopscape.com.