I found this project in a book called "Accent on Crafts", published in 1970 by the Illinois Bronze Powder and Paint Co. The cover sports many gloriously screwball projects, including a rather disturbing psychedelic-painted typewriter. I chose to make the "Memorable Mirror"- a dime store mirror covered with a magazine image with the face cut out so that the face of the person looking in the mirror would peer through the cut-out area and thus become part of the image. Easy-peasy. Let's do it.
What you'll need:
Framed mirror
Image same size as mirror
X-acto knife
Glue
Here are the original instructions:
"The popular Art Nouveau style of the early 1900's is recaptured to delight the teen-age crowd. Pictures are magazine illustrations with faces cut out. Entire remaining picture is sealed with Decoupage Sealer, then sprayed with Instant Decoupage Finish. Buy framed mirror at your dime store. Protect mirror with a piece of cardboard while you spray paint or hand decorate the frame. Use Instant Decoupage Finish on the frame, too. Remove cardboard. Glue picture to mirror with white glue. When you view your image, there you are in an idyllic setting. Magnifico!"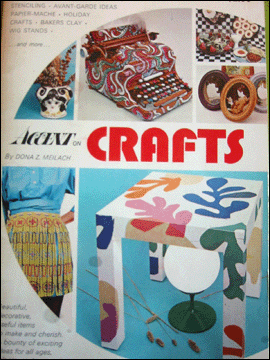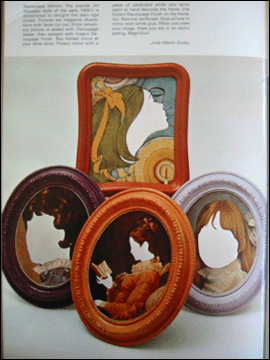 Oh yeah, "magnifico". I'm not sure any teenager would too jazzed about these mirrors, but just look at the women responsible for this project.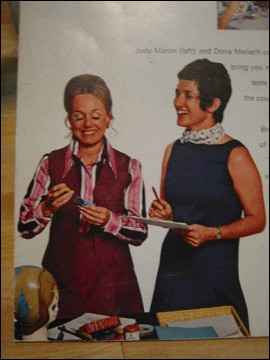 Do they look like they know anything about teenagers from any decade? For my version of this project, I chose to go further back in the art historical timeline and selected one of my favorites from when I was a teenager, Lucas Cranach's painting, Judith and Holofernes. Not only is this painting full of gore, drama and gobs of velvet and gold chain finery, Judith is a far greater role model for teenage girls than some high maintenance Victorian bimbo.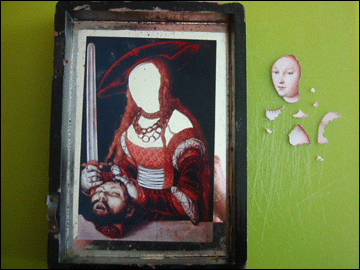 I printed the image on photo inkjet paper and carefully cut out Judith's exposed face, neck and chest with an X-acto knife. I spray-mounted the image onto an old framed mirror that had just the right amount of dings and worn bits on it in keeping with that Old World look I was going for.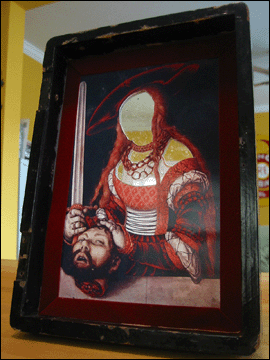 The image I used was slightly smaller than the mirror, so I cut some lengths of blood-red ribbon and spray-mounted them to the mirror to cover up the exposed bits. Did you notice that I didn't use any of that decoupage crap in my project? I think it came out pretty well without it. Magnifico! Now does anyone have a typewriter I can screw up?