I started by cutting a styrofoam ball in half with a bread knife. It really is the best tool for the job. I smooshed down the edges of the mushroom cap to make them more rounded and natural-looking. I used a pencil to make a hole on the underside of the mushroom cap for the stem to fit in.

I used the remaining half of the foam ball to make the stem by cutting a basic stem shape and rounding off the cut edges by again smooshing them down.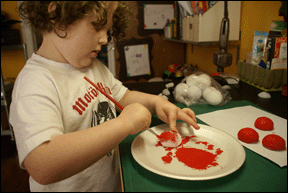 My precious minon is not allowed to use knives, needles or hot glue guns just yet, but boy can she paint. I let her paint the tops red. It was the only way to get her to stop whining, really. The red paint is necessary before the next step because it functions as a primer for the red sequins (unless you want white peeking through). I painted the stems white too. They don't get sequins, but I didn't want them to be just plain styrofoam either.

You'll need the right kind of needles (sold next to the sequins in most craft stores) and of course, sequins. I used large metallic red ones for the cap, large silver ones for the mushroom gills, and small white ones for the spots. I applied the red and silver sequins in rows, with the sequins barely overlapping each other.


I thought about painting the clothespins green, but after I realized how difficult it was to get green paint in all the nooks and crannies, I moved on to a better solution- moss. I hotglued moss onto the top of the clothespin and trimmed off the excess dangly bits, hotglued the stem into the mushroom cap, and then hotglued the mushroom onto the clothespin. After I made the initial prototype, I ended up doing an assembly line process and made several at one go.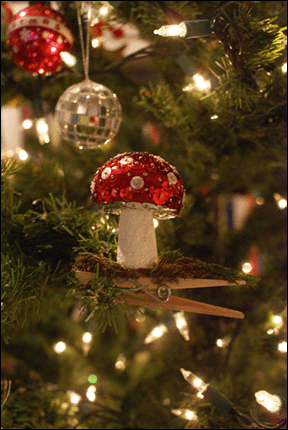 The result- I love them. When Christmas is over, I'm planning on wrapping these up with the utmost care to try to preserve them. The moss might need to be replaced now and then, but I hope one day Eleanor will be putting these on her own tree. D'aww!