Project: Potato Print Blinds

This project comes from the pages of Print Art, published in 1966. I originally bought this book for my daughter, since the projects are geared for little kids with easy projects, plenty of big, pretty pictures and huge type. In the intro, the author tells us that, "Printing is a fascinating activity for small children because it pleases them to repeat their own designs." Yeah, okay, I'm 36 and I still get jazzed about repeating patterns.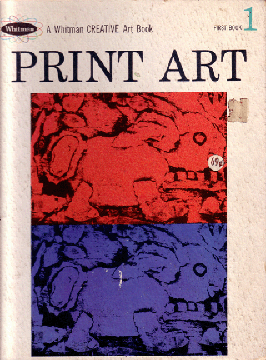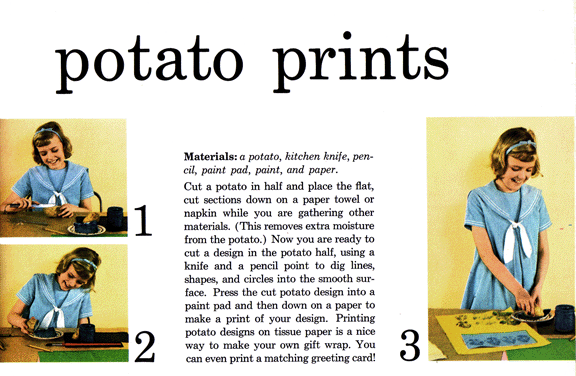 For this project, I thought I'd give potato printing a go, because honestly, unless I'm blocking out some preschool memory, I don't think I've ever experienced the pleasure of potato printing. And hey! Isn't St. Patrick's Day just around the corner? You know what's fun? Saying "potato" with an Irish accent. That's fun.
What you'll need:
Potatoes!
Knife and carving tools
Fabric paint
A basic Roman blind, or fabric panel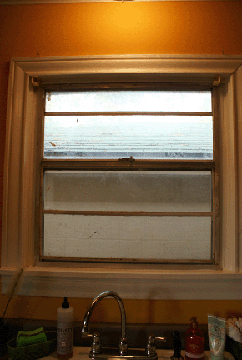 My kitchen window is a sad thing. We've been in this house for over two years and I have yet to come up with a suitable replacement for the disgusting, food-splattered Venetian blinds covering it. I figured a potato-printed window treatment might be a nice alternative. I purchased a cheap Roman blind from Ikea to print on, figuring if I messed up, at least I wouldn't have spent too much money doing it.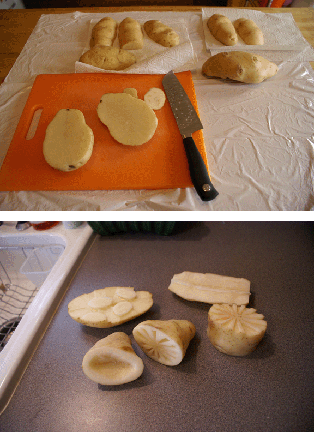 I cut my potatoes and drained them on paper towels before digging into them with my designs. I made a variety of different designs that could be used separately or together but ultimately settled on something simple for my first attempt and stamped the pattern on the blind in a pale green fabric paint. I'm a terrible printer because I'm messy and impatient, but potato printing lends itself very well to any little imperfections that might happen during the printing process. It's impossible to make a perfect print, so you just have to go with the flow.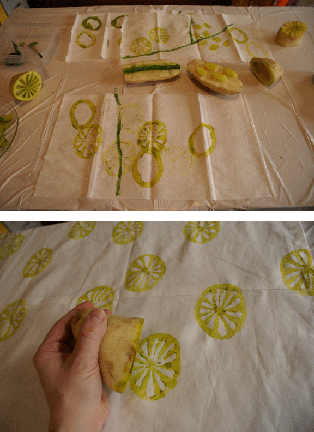 The verdict? I definitely had the luck of the Irish today. My new blinds make me happy and now I'm a bonafide potato-stamp addict.


Poopscape is written by Claire Chauvin, a craft-obsessed mother and photography teacher living in Houston, Texas. If you have a question or a compliment, have tried one of my projects and want to share with me, or just want to chat, please email me at claireATpoopscape.com.