Project: Pixie Elf Tree Skirt
For this project I referred back to my pile of old Pack O Fun magazines for craft inspiration. This time my eye was caught by the pixie-elf tree skirt project in the centerfold of the December 1969 issue.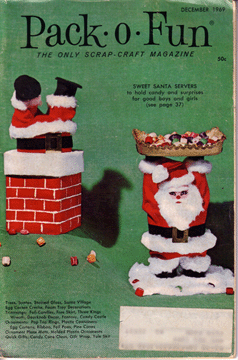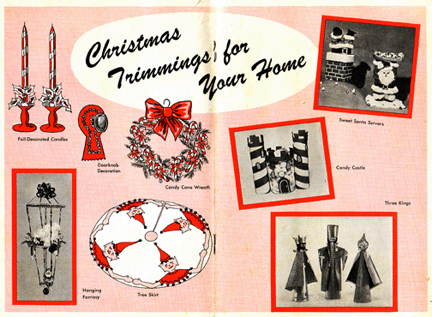 Why does a tree need a skirt? Well, without one you're stuck looking at the tree stand which, let's face it, is more functional than decorative and needs covering up. For years I used an old bedsheet as a tree skirt (you can see a bit of it in the image below), which I would fluff up to look like a snow drift, and not a very convincing one at that. When I saw the tree skirt with its happy little foursome of elves with bad haircuts, I knew the sheet had had its day.
What you'll need:
Pattern for tree skirt (see below)
Felt or fleece (you'll need to add seam allowance to the pattern if you're using a non-fraying fabric)
Scissors
Fabric glue or needle and thread
Fabric marker
Optional: pom poms and rick rack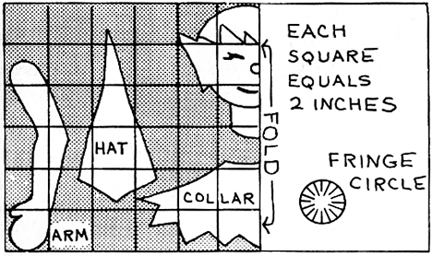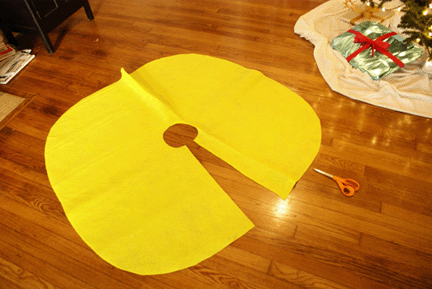 The pattern for the tree skirt was a mere 36" wide- and that's just not big enough- so I made the skirt almost twice as big because my tree is a monster (which also meant that I needed to make a few more elves to fill the space). I used glittery chartreuse felt for the skirt, magenta felt for the elves' hats and collars, cream felt for the fleshy bits, and black for their hair.
I could have gone with more traditional Christmas colors I guess, but I had to create my own perverse take on green and red. I hotglued silver rickrack to the elves' costumes, white rickrack around the edges of the tree skirt and white pom poms on the tips of their pointy hats. It looked way too unfinished without all that stuff on it. The rickrack totally makes it.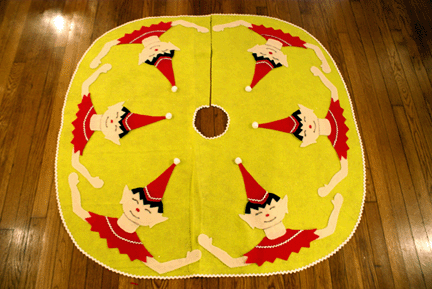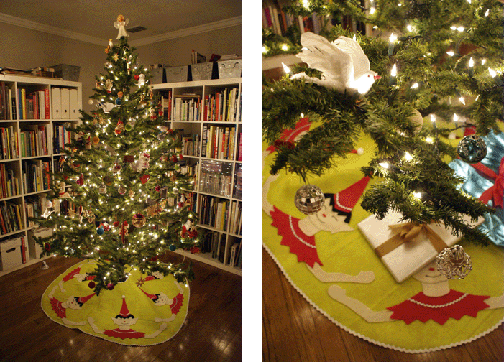 The verdict? Much, much better than that pathetic white sheet. Merry Christmas, Poopscapers!