Project: Applique Curtain
I made a potato print curtain for my kitchen window and since then I've been troubled by yet another window in my house in dire need of a makeover, namely my bathroom window which had a pathetic broken Venetian blind covering it. It would have been hard for me to spend time working on something else of a non-curtain variety for this month's project when that damn ugly thing confronted me every time I went into the bathroom, so it's curtains again, folks.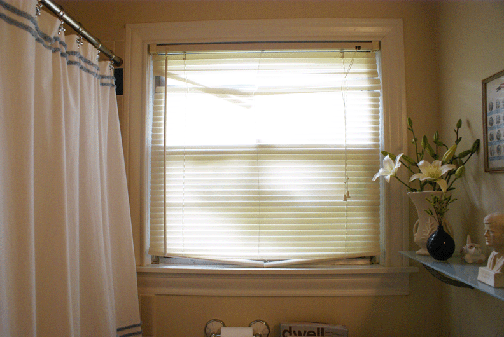 This time I took my inspiration from the front and back cover of the 1965 edition of The Stitchery Book. Those hippy-dippy felt flowers and the little bits of nature all tied and bound like some sort of crafty S&M project had been calling to me for months now and this was my chance to use them.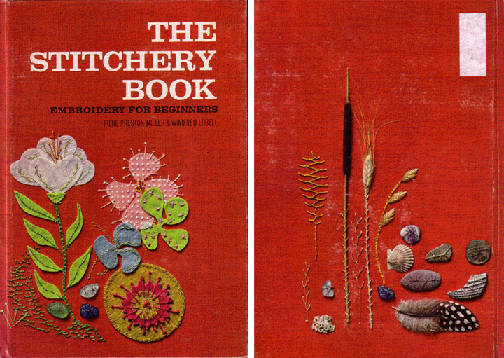 What you'll need:
Unbleached muslin (enough to cover window plus 1" selvege on sides and 2" extra to roll around dowels at top and bottom of curtain
Felt in natural colors
Other natural objects (must be somewhat flat)
Embroidery floss and needle
Two wooden dowels slightly larger than the width of your window
Hardware for hanging curtain (eyelet hooks work well)
I made the whole curtain panel from scratch this time. I constructed the curtain panel from unbleached muslin (cheap- this project cost next to nothing!) and two dowels that I hot glued to the bottom and top of the panel. I raided Michael's for any cool twigs, moss, feathers, shells and rocks I could find, but I only ended up using birch twigs.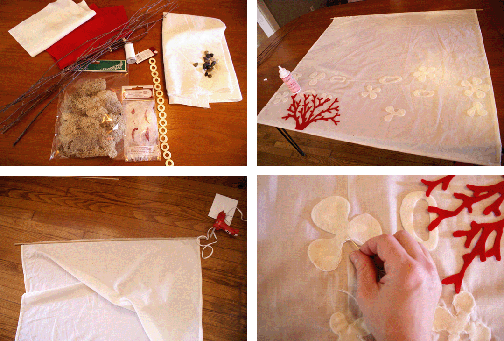 I cut some curvy-wurvy organic shapes like the ones on the cover of The Stitchery Book out of cream felt. I also cut out a coral shape from red felt because I'm really into coral right now and it seemed like the right thing to add. I tacked the pieces on with fabric glue and used a variety of different embroidery stitches to sew the pieces on. The branches are held on by hot glue and more embroidery floss.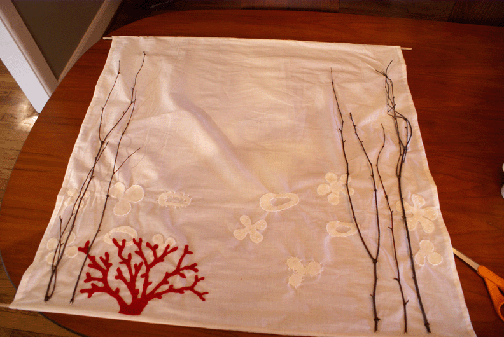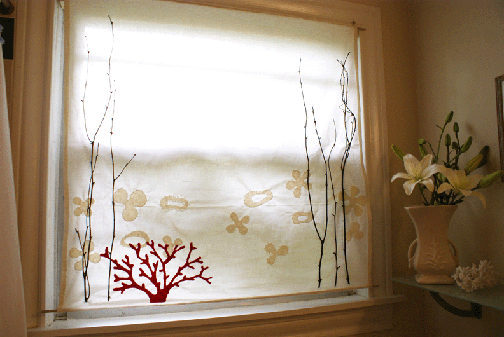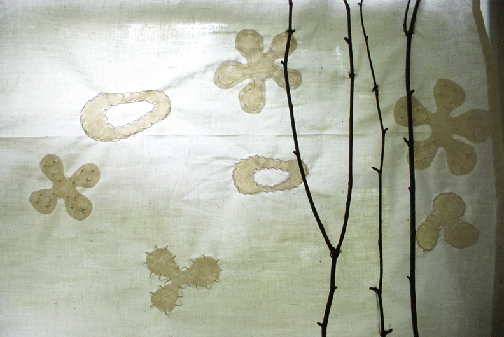 Poopscape is written by Claire Chauvin, a craft-obsessed mother and photography teacher living in Houston, Texas. If you have a question or a compliment, have tried one of my projects and want to share with me, or just want to chat, please email me at claireATpoopscape.com.